Event & Program Recordings
MARC event recordings can be viewed on our YouTube channel by clicking
HERE
Upcoming Events & Programs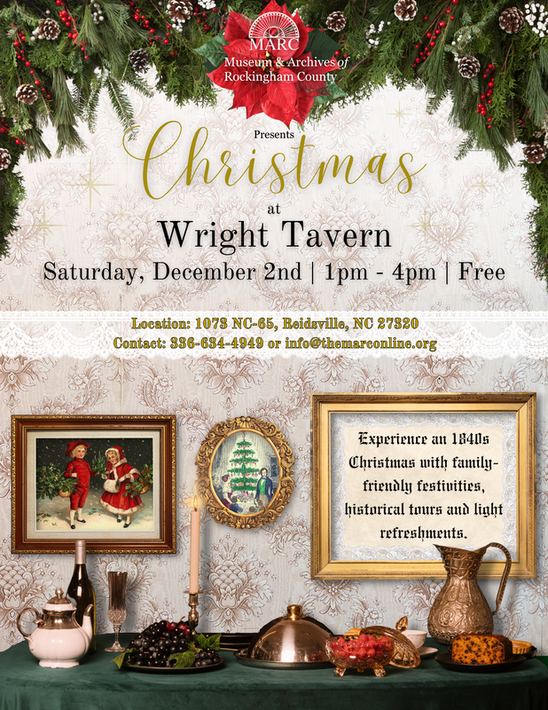 December 2nd 2023 - Christmas at Wright Tavern
Location: Wright Tavern (1073 NC-65, Reidsville, NC 27320)
FREE: 1pm - 4pm
Join us for our 11th annual Christmas at the Wright Tavern event. This year we are celebrating a traditional 1840s Christmas with family-friendly festivities, period decorations, historical tours and light refreshments - offering something for everyone, all within the unique setting of the 1816 Wright Tavern.

It is also a great opportunity to meet the MARC team from our Board to staff and volunteers. Admission is completely free and we look forward to welcoming you there!
---
Past Events & Programs
2023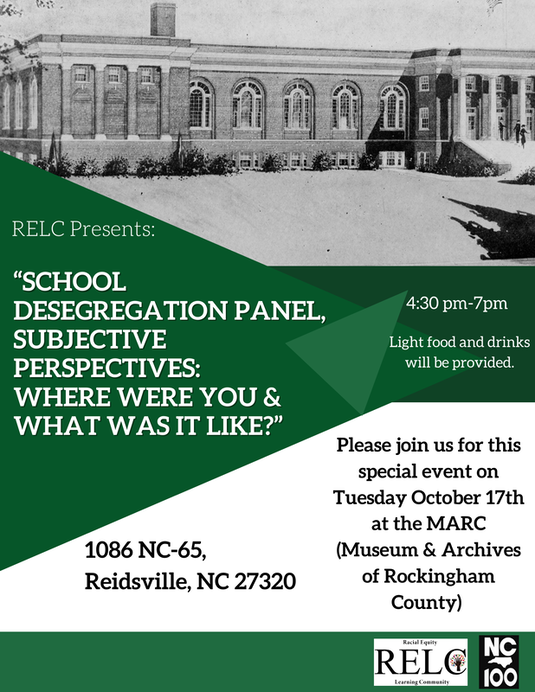 October 17th 2023 - Racial Equity Learning Community, School Desegregation Panel Discussion
Location: MARC
FREE: 4:30pm - 7pm
MARC is hosting the Racial Equity Learning Community for their round table discussion program, School Desegregation Panel, Subjective Perspectives: Where Were You & What Was It Like? Light refreshments will be served.
---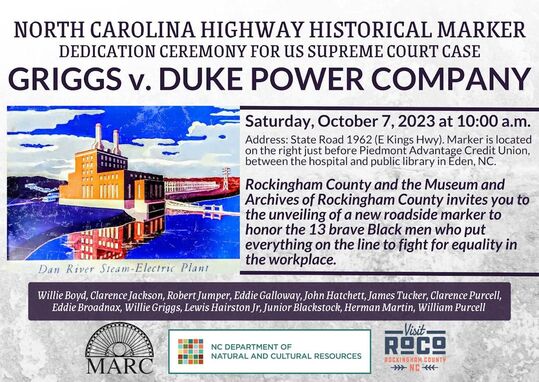 October 7th 2023 - Griggs v. Duke Power Co. NC Highway Historical Marker
Location: State Road 1962 (E. Kings Hwy), Eden, NC 27288 (between the hospital and public library)
FREE: 10am
We hope you will join us Saturday 7th October for the unveiling and dedication of the Griggs v. Duke Power Co. North Carolina Highway Historic Marker. This event commemorates the bravery and accomplishments of the 13 plaintiffs involved in the landmark 1971 Supreme Court case and their contributions to the Civil Rights Movement.
---
September 15th & 16th 2023 - Living History Station at Eden River Fest
Location: 705 Washington St., Eden, NC 27288
FREE: 5pm - 10pm (15th) & 10am - 7pm (16th)
The MARC is excited to announce we will be partnering with the Eden Historical Museum and the Dialogue Company at the River fest in Eden.

If you are interested in having old photos digitized, need help with genealogy, or just want to learn more about the Rockingham County's history come see us at the Living History Station. We will also be doing a story competition for those interested in stories about growing up in a rural community.
---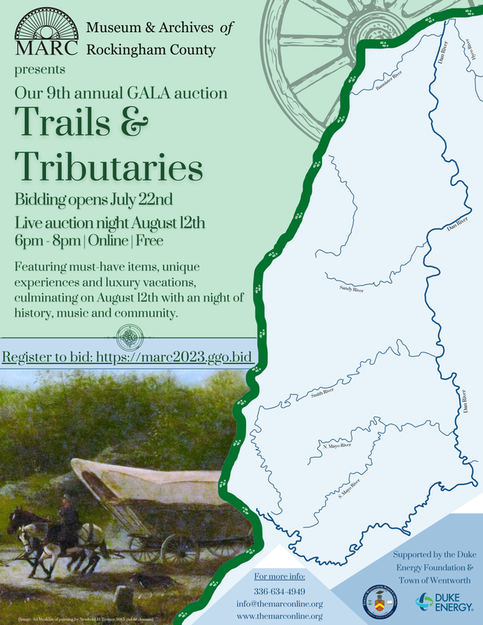 July 22nd - August 12th 2023 - 9th Annual GALA Auction
Location: Online
FREE: Opens 22nd July at Noon
Live Auction Night 12th August, 6pm - 8pm
Mark on your calendars our 9th annual GALA auction - opening July 22nd and building to the live auction night on August 12th - celebrating all things "Trails and Tributaries".

100% of raised funds go to MARC's historical and educational mission. You can donate via check or in person.
---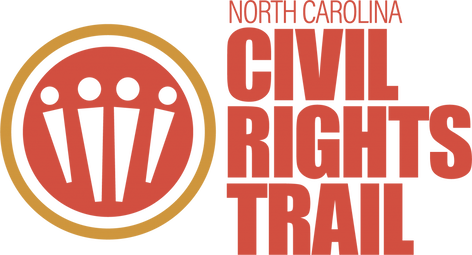 August 1st 2023 - NC Civil Rights Trail Marker Dedication Ceremony & Reception
Location: MARC Museum
FREE: 5:30pm
MARC is proud to host the dedication and unveiling of a new North Carolina Civil Rights Trail Marker honoring the plaintiffs of the 1971 Griggs v. Duke Power Co. Supreme Court case. Hearing from representatives of the traditional land owners, families of the plaintiffs, educators, MARC leadership and keynote speaker Sandra Hairston, U.S. District Attorney, the ceremony will be followed by a reception with light refreshments and museum tours. Please RSVP by contacting us at: 336-634-4949 or emailing Audrey at: info@themarconline.org
---
July 22nd 2023 - Butler Legacy Fund: Batteau Rededication
Location: MARC Museum
FREE: 11:30am
MARC is proud to join with our Butler Legacy Fund partners, the Dan River Basin Association (DRBA) to launch our first fund event - the Batteau rededication. A 3/4 size replica batteau sits on MARC's grounds, a once common vessel on the Dan River that played an important part of river communities in Rockingham County, the enslaved and freemen in the 19th century.

The event will celebrate this history and rededicate the large batteau mural that once was situated in downtown Eden. With additional context, this mural will form the backdrop of the batteau replica with speakers from DRBA, MARC, T Butler and other community members.
---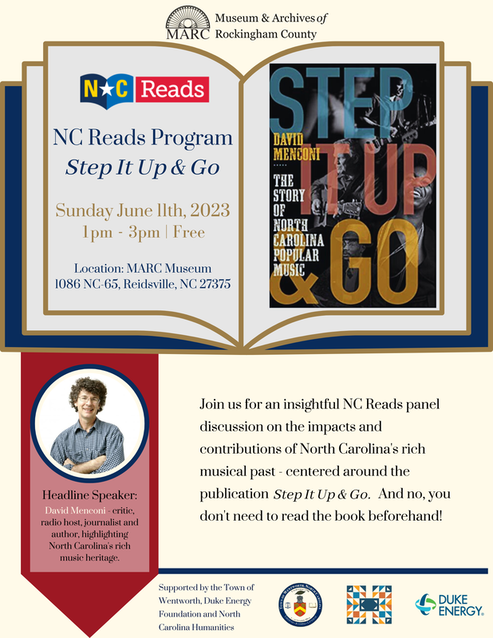 June 11th 2023 - NC Reads Program
Location: MARC Museum
FREE: 1pm - 3pm
MARC is participating in the North Carolina Humanities Council's NC Reads Program this summer, focusing on David Menconi's publication "Step It Up & Go".

"Step It Up & Go" is a story of North Carolina's extraordinary contributions to music - from Piedmont blues, jazz, and bluegrass to beach music, rock, hip-hop, and more. From mill towns and mountain coves to college-town clubs and the stage of American Idol, Blind Boy Fuller and Doc Watson to Nina Simone and Superchunk, "Step It Up and Go" celebrates homegrown music just as essential to the state as barbecue and basketball.

The program will be a panel discussion with David Menconi and others about folk music and its impacts. And no, you don't have to read the book to join.
---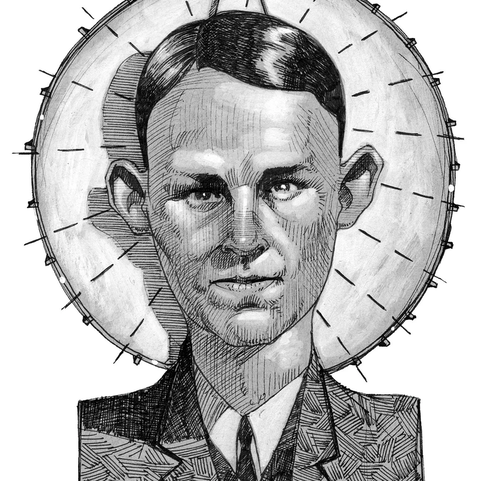 June 9th & 10th 2023 - Charlie Poole Music Festival 2023
Location: Rockingham Community College, 215 Wrenn Memorial Rd, Wentworth, NC 27375
Tickets: Available
HERE
Time: 4pm - 10pm
MARC is proud to partner with Piedmont Folk Legacies, creators of the Charlie Poole Music Festival as, after a three year hiatus, we look back proudly at over twenty years of presenting in concert the biggest stars of Americana music: Tony Rice, Norman & Nancy Blake, Mike Seeger, J.D. Crowe, Alice Gerrard, Tony Trischka, the Carolina Chocolate Drops, and so many more. All of this is in honor of the musical legend of Charlie Poole.
For those musically inclined guests, there will be a variety of competitions throughout the festival where musicians can not only show off their musical talent but enter to win cash prizes.
For more information, visit the Charlie Poole Festival 2023 website
HERE
---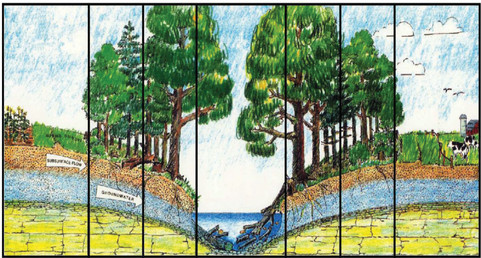 May 12th 2023 - Streamside Trees inthe Classroom
Location: Stoneville Memorial Park, Priddy Drive, Stoneville, NC 27048
FREE: 10am Start
MARC is part proud to partner with the U.S. Army Corps of Engineers Wilmington District and Dan River Basin Association led project, "Streamside Trees In The Classroom," in the Year of The Trail. The event will see local school children plant trees grown in their classrooms for 4 weeks prior. Natural resource partners from across the county will talk about the importance of planting trees on stream banks alongside fun games and activities.
---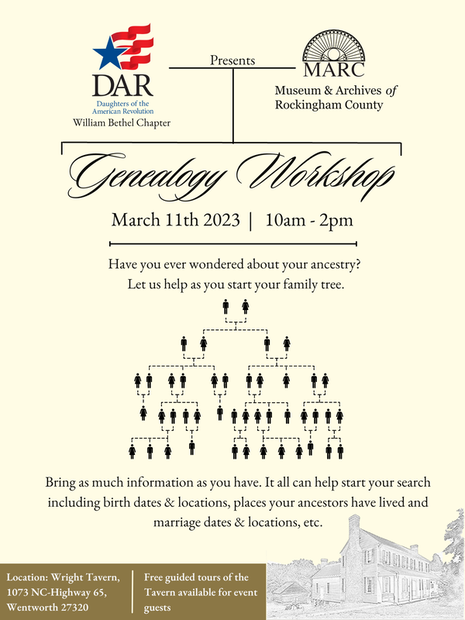 March 11th 2023 - William Bethel Chapter DAR Genealogy Workshop
Location: 1816 Wright Tavern, 1073 NC-65, Reidsville, NC 27320
FREE: 10am - 2pm
Join MARC and the William Bethel Chapter DAR for our bi-annual Genealogy program. Surrounded by the historic restored interiors of the 1816 Wright Tavern and antique quilt displays, learn about tracing your family history - where to start, what to look for and we will help you discover your personal story.
---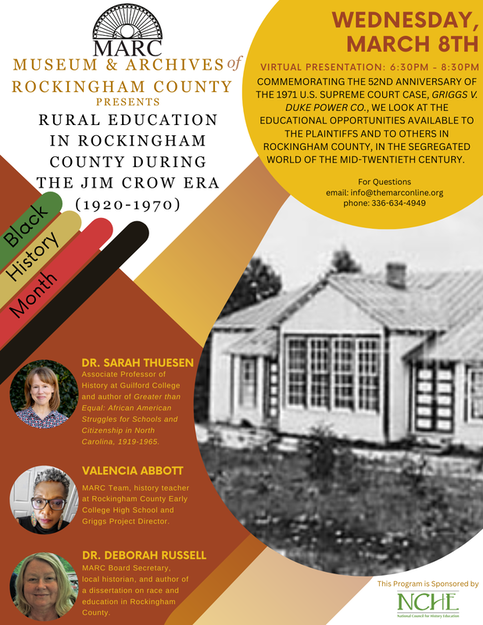 March 8th 2023 - Rural Education In Rockingham County During the Jim Crow Era (1920 - 1970)
Location: Online
FREE: 6:30pm - 8:30pm
​
Join us for our 3rd annual
Griggs v. Duke Power Co.
recognition virtual event. On the 52nd anniversary of the Supreme Court decision, we will look at the educational opportunities available for the African American plaintiffs and others across Rockingham County at the time.
Distinguished headline speaker Dr. Sarah Thuesen, author and Associate Professor of History at Guilford College, will speak about the segregated world of the mid-twentieth century and how the experiences of those living in rural America have traditionally not taken center stage in historical narratives.
​
View the event recording HERE
---
2022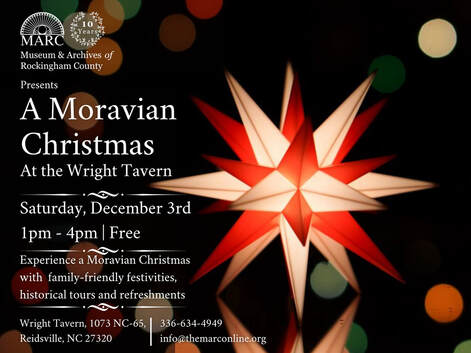 December 3rd 2022 - A Moravian Christmas At The Wright Tavern
Location: 1816 Wright Tavern (1073 NC-65, Reidsville, 27320)
FREE: 1pm - 4pm
​Join us for our 10th annual Christmas event at the Wright Tavern, this year celebrating Moravian Christmas traditions. With family-friendly festivities, decorations, tours by historical guides and Christmas refreshments, all within the unique setting of the original 1816 Wright Tavern, there is something for everyone. Admission is free and we look forward to seeing you there!
---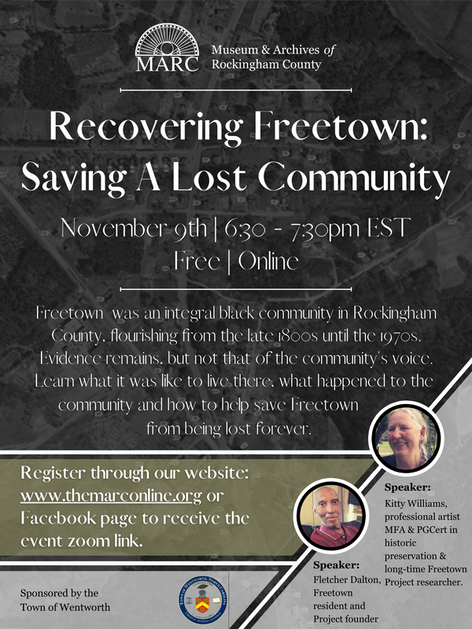 November 9th 2022 - Recovering Freetown: Saving A Lost Community
Online
FREE: 6:30pm - 7:30pm
​Our speakers, Fletcher Dalton and Kitty Williams deep-dived into Freetown - a once vibrant majority black community and integral part of Rockingham County, flourishing from the late 1800s until the 1970s.
​
Learn what it was like to live there, what happened to the community and how you can help save Freetown from being lost forever.

​

---
September 10th 2022 - Antique Quilt & Sewing Machine Display Opening
Location: 1816 Wright Tavern
FREE: 10am - 2pm
​
Join the William Bethel Chapter DAR for their antique quilt and sewing machine display opening at MARC's 1816 Wright Tavern. Admission is free and light refreshments provided. We look forward to seeing you there!
---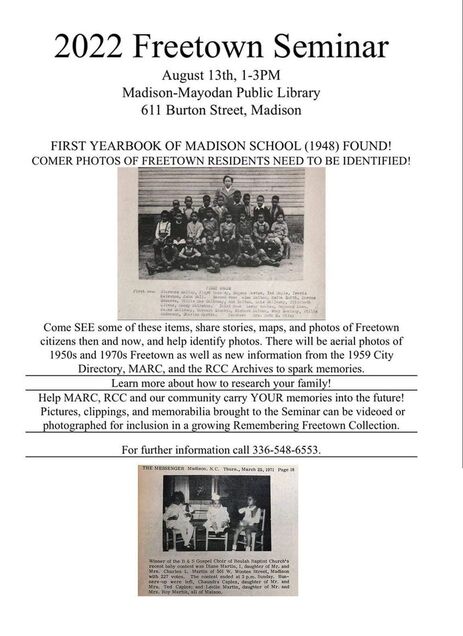 August 13th 2022 - 2022 Freetown Seminar
Location: Madison-Mayodan Public Library
FREE: 1pm - 3pm
​Join Kitty Williams at this year's senimar on Freetown - the lost African-American Rockingham County community. In partnership with Rockingham Community College and using items from MARC's archival collection - the first Madison School yearbook from 1948 and Comer photographs - there is opportunity to share your knowledge, idetify people in photographs and learn about an important part of the county's history, endangered of being lost forever without community support!



---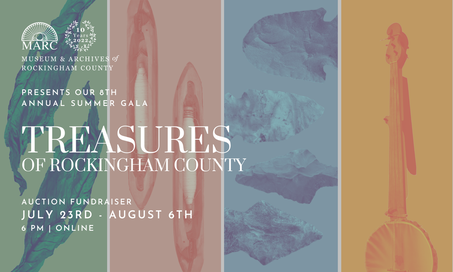 July 23rd - August 6th 2022 - 8th Annual GALA Fundraiser
Online
FREE: 6pm - 8pm
Mark on your calendars 6th August as we bring to you our 8th annual GALA, with 2022 coinciding with MARC's 10th anniversary. This year's theme, '
Treasures of Rockingham County
', will focus on the importance of MARC's decade of work preserving and exhibiting our heritage and teasing out the stories locked within for current and future generations. Like last year, it will be online and free admission!
To view the event recording click HERE
---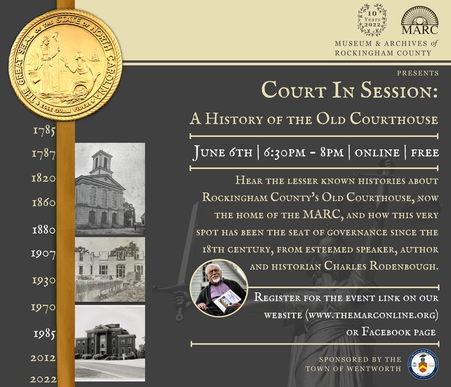 June 6th 2022 - Court In Session: A History of the Old Courthouse
Online (Zoom)
FREE: 6:30pm - 8pm
Hear the lesser known histories about Rockingham County's Old Courthouse, now the house of the MARC, and how this very spot has been the seat of governance since the 18th century, from headline speaker, author and historian Charles Rodenbough.
To view the event recording click HERE
---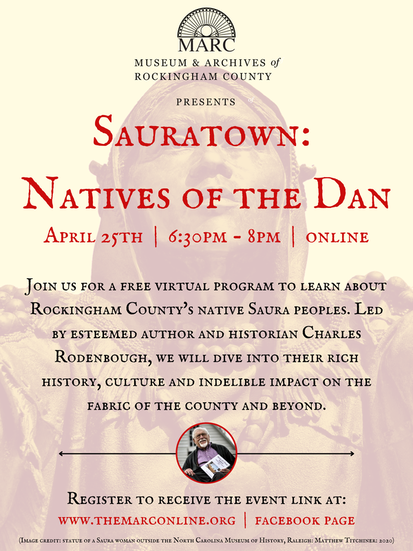 April 25th 2022 - Sauratown: Natives of the Dan
Online (Zoom)
FREE: 6:30pm - 8pm
Led by esteemed author, scholar and headline speaker Charles Rodenbough, learn about the Native American Saura peoples, their rich history, culture and indelible impact on the fabric of Rockingham County.
View the event recording
HERE
---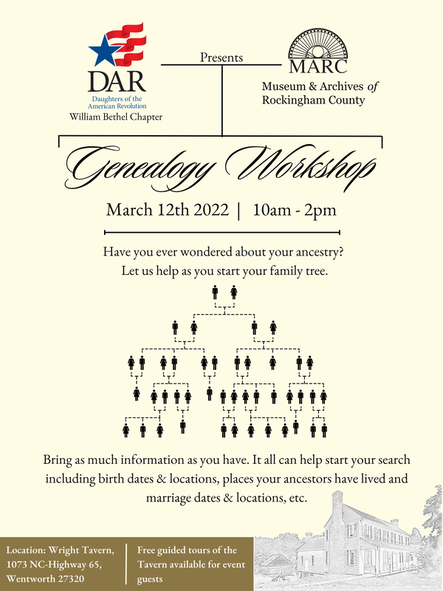 March 12th 2022 - Genealogy Workshop
Wright Tavern (1073 NC-Highway 65, Wentworth 27320)
FREE: 10am - 2pm
​Join the MARC and William Bethel Chapter of the Daughters of the American Revolution at one of our popular genealogy workshops.

Have you ever wondered about your ancestry? Have you hit a block in your family history research? Let us help as you start or expand your family tree.

Bring as much information as you have - names, birth dates and locations, places where your ancestors lived and marriage information - it can all help start your search.

Event attendees will also be able to take a free historical tour of our historic venue, the 1816 Wright Tavern.
---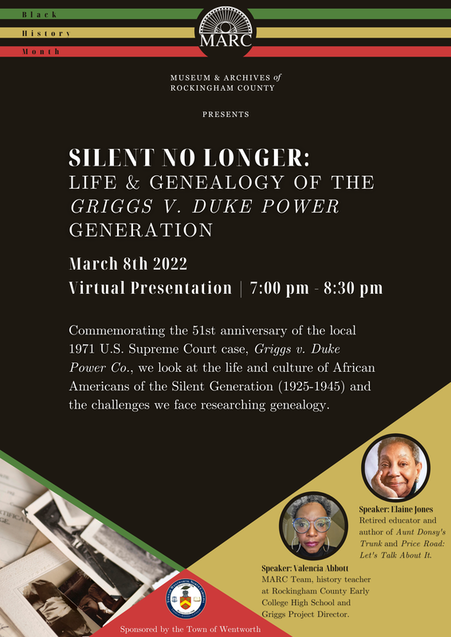 March 8th 2022 - Silent No Longer: Life & Genealogy of the Griggs v. Duke Power Co. Generation
Online (Zoom)
FREE: 7pm - 8:30pm
​Join the MARC commemorating the 51st anniversary of the local 1971 Supreme Court case, Griggs v. Duke Power Co. where we look at the Silent Generation (1925-1945), of whom many of the plaintiffs belonged to.
MARC's Valencia Abbott and esteemed author and guest speaker, Elaine T. Jones, will focus on the lives, families, and communities of these men and explain why, even today, some of these rich family stories and achievements have not been passed down to the next generations.
As African Americans born during 1925 - 1945 are amongst the least documented generation, the program will also provide tips and tools for anyone researching their ancestors, using non-traditional genealogy sources.
Click
HERE
to view the event recording
---
2021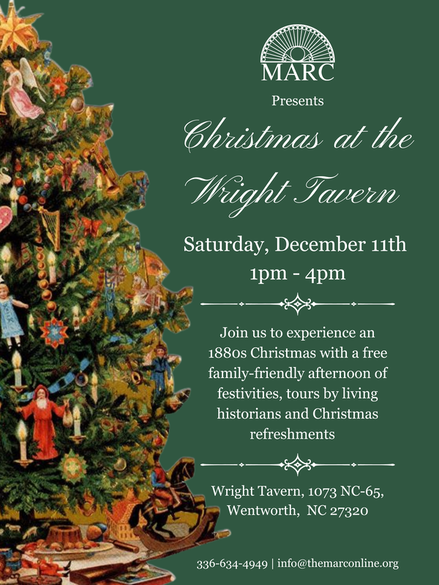 December 11th 2021 - Christmas At The Wright Tavern 2021
Location: 1816 Wright Tavern (1073 NC-65, Reidsville 27320)
FREE: 1pm - 4pm
Join us to experience an 1880s Christmas with a free, family-friendly afternoon of festivities, tours by living historians and Christmas refreshments.
---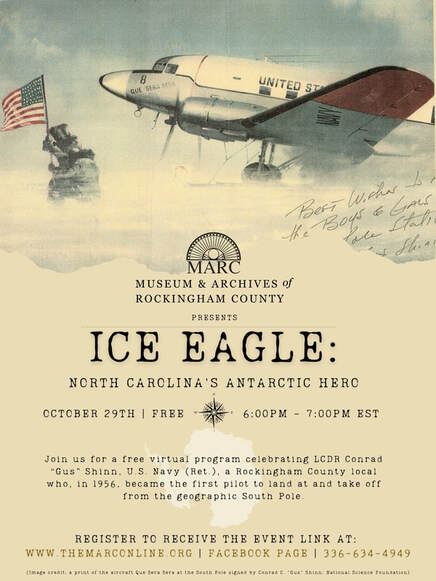 October 29th 2021 - Ice Eagle: North Carolina's Antarctic Hero
Online Webinar (Zoom)
FREE: 6pm - 7pm
Join us for a free virtual program celebrating LCDR Conrad "Gus" Shinn, U.S. Navy (ret.), a Rockingham County local who, in 1956, became the first pilot to land at and take off from the geographic South Pole.
On the 65th anniversary of that historic achievement, our headline speakers and Antarctic veterans, Thomas Henderson and LCDR "KingTut" Tuttell, U.S. Navy (ret.), will honor LCDR Shinn's remarkable life and career, and provide a glimpse of the most hostile environment on Earth and what it takes to survive there.
​Click
HERE
to view the event recording.
---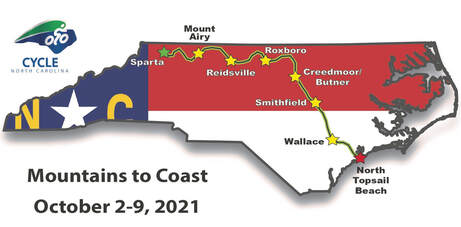 October 4th 2021 - Mountains to the Coast Cycle Event
MARC
FREE: 10am - 4pm
​MARC will be hosting the last rest stop of the day for the North Carolina state-wide Mountains to the Coast Cycle Event. With a free tour day of the Wright Tavern and stalls with giveaways, sign up to cycle and recharge your batteries at the heart of historic Rockingham County.
---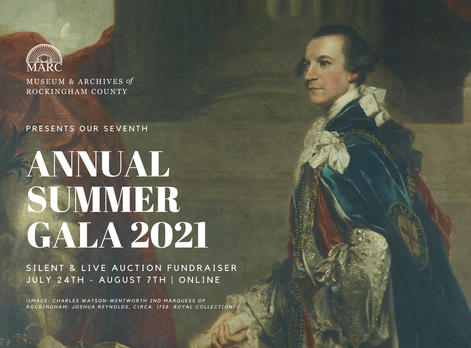 Seventh Summer Annual GALA 2021
24th July - 7th August - Silent Auction
7th August 6pm - 8pm - Live Auction
Online: FREE
Put in your calendars 24th July and

7th August

for MARC's seventh annual summer GALA fundraiser event. This year there will be a few key differences - the event will be virtual and admission is free!
---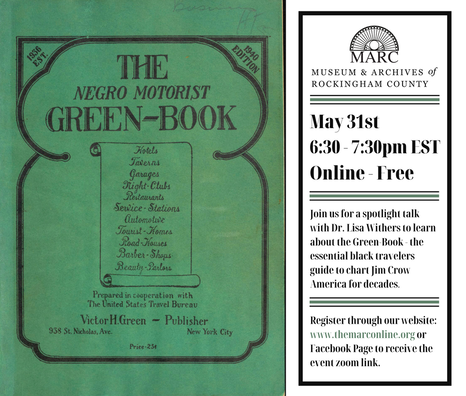 May 31st 2021 - The Green-Book
Online Webinar (Zoom)
FREE: 6:30pm - 7:30pm
Join the MARC as we partner with doctoral candidate and researcher Lisa R. Withers, to bring a virtual talk on the
Green Book
; the essential travel guide for African Americans during the Jim Crow Era. Learn about the impact of these pocket guides and how history advocates are trying to pin-point and save many of the listed sites within North Carolina, for future generations to learn from.
​
We are grateful to the Town of Wentworth and the Reidsville Area Foundation for sponsoring MARC and making this educational program possible.
​
Click
HERE
to view the event recording.
---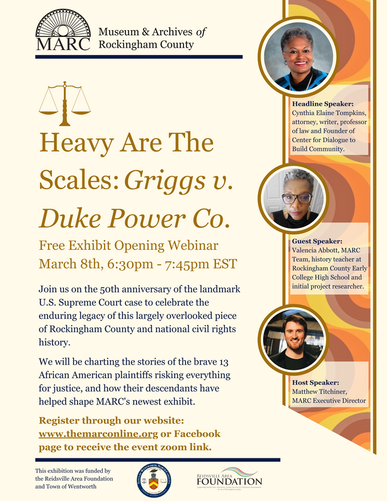 March 8th 2021- Heavy are the Scales: Griggs v Duke Power Company
New Exhibition Opening: Online Webinar (Zoom)
FREE: 6:30pm - 7:45pm
Join the MARC for a brand new exhibition opening, Heavy are the Scales:
Griggs v. Duke Power Co.
This exhibit tells the story of 13 African American men from Rockingham County that fought for their rights and took it all the way to the Supreme Court in 1971. Their courage to risk everything changed the Civil Rights Movement forever, and now the MARC is honoring the 13 men and their families on the 50th anniversary of this previously little-known Supreme Court case.
To find out more about the project, its progress and possibly even contribute, visit the
Heavy are the Scales
page under the events and programs tab at the top.
Click
HERE
to view the virtual exhibit tour and
HERE
for the
event recording.
---